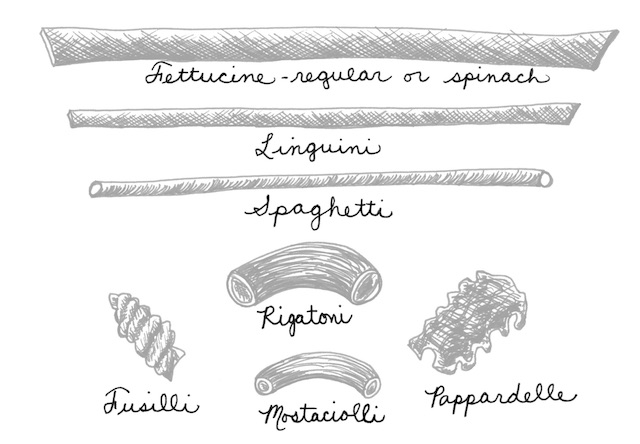 Ask your Server for our Gluten- and Egg-Free Pastas, they are all Home Made!
SOUP, SALAD & APPETIZERS
CONCH CHOWDER
A Key West Classic. Tomato-based Manhattan-style Chowder garnished with Parsley
$8.95
HOUSE SALAD
Fresh Red Leaf & Boston Lettuce, Tomatoes, Red Onions, Arugula tossed with our special Vinaigrette
$7.95
ADD any 3 of the following ingredients for an extra $3.00
Roasted Red Peppers, Black Olives, Mushrooms, Artichoke Hearts, Feta Cheese, Gorgonzola, Garbanzo Beans or Fresh Organic Basil.
CAPRESE
Sliced Tomatoes, Homemade Mozzarella, Fresh Basil, EVOO & Balsamic Vinegar
$12.95
CARPACCIO di BUE*
Paper-Thin Slices of Beef Loin, Sashimi-Style, dressed with Fresh Lemon Juice and EVOO, garnished with Capers, Shaved Parmesan Cheese, Arugula, topped with Fresh Ground Pepper & Sea Salt
$13.95
GRATIN of GRILLED ASPARAGUS
Grill-Roasted Asparagus and Vine-Ripened Plum Tomatoes brushed with EVOO, Garlic and Herbs, topped with Gorgonzola then lightly browned
$13.95
ESCARGOTS on GRILLED GARLIC CROUTON
Sautéed in Butter & EVOOl with Garlic, Shallots, White Wine and Fresh Pesto, served over a Grilled Garlic Crouton
$12.95
BRUSCHETTA
Chopped Fresh Homemade Mozzarella, Basil & Tomatoes marinated in EVOO with Garlic and Onions. Served over Grilled Garlic Crouton
$10.95
NEW ZEALAND MUSSELS
Green-Lipped Mussels infused with Garlic, Butter, Chopped Tomatoes, Basil, Red Pepper Flakes and White Wine
$12.95
BROCCOLI RABE (RAPPINI)
Sautéed in EVOO, Garlic, Chopped Tomatoes, a dash of Red Pepper Flakes and Shaved Parmesan Cheese. One of our most-requested dishes
$9.95
HOMEMADE SAUCES
Pair with our Fresh Homemade Pastas.
We use naturally-fed, non-hormone Chicken.
Pair a Pasta with one of our delicious, made-from-scratch Sauces!
All Entrées are served with Garlic Butter Rosemary Toast.
MARINARA $16.95
MEAT SAUCE $17.95
ALFREDO $18.95
PESTO with PINENUTS & WALNUTS $17.99
CREAMY MARINARA $18.95
CREAMY PESTO $19.95
ADD SHRIMP $7.95
ADD LINK SAUSAGE $6.95

GLUTEN & EGG-FREE PASTA add $5.00
ZUCCHINI RIBBONS add $2.50
FAVORITES FROM THE GRILL
Served with Fusilli, Marinara.
Grill Entrées may be served with the House Salad for those not wishing Fresh Pasta.
GRILLED FRESH ATLANTIC SALMON
Brushed with EVOO, Lemon Juice, Garlic and Pepper
$23.95
FRESH MAHI-MAHI
Brushed with EVOO, Lemon Juice, Garlic and Pepper
$21.95
GRILLED BONELESS CHICKEN BREAST
Brushed with EVOO, Lemon Juice, Garlic and Pepper
$20.95
SEAFOOD SPECIALTIES
SEAFOOD in a SAUCE
with 3 Shrimp, Conch & Mahi-Mahi
MARINARA $24.95
ALFREDO $25.95
SEAFOOD SCAMPI
Maine Lobster, Shrimp and Lump Blue Crab, White Wine, Garlic, Butter, Parsley and Clam Broth over Fresh Linguini Pasta
Market
LOBSTER LINGUINE
Maine Lobster Claw & Knuckle in our Pink Sauce (Creamy Four Cheese Marinara Sauce)
Market
LINGUINE con VONGOLE
Fresh Little Neck Clams steamed in a bath of White Wine, Spanish Onions, Garlic, Parsley and a dash of Red Pepper Flakes. Finished with Butter & Lemon Zest
$22.95
BOLLITO MISTO di MARE
Our tribute to the ocean's bounty features Pappardelle Pasta, Fresh Scallop, Shrimp, Salmon, Mussel and Mahi-Mahi flash-sautéed in EVOO with Garlic, Shallots, Pesto, Thyme, White Wine and finished in an Herbaceous Clam Broth. Garnished with Chopped Tomatoes & Green Peas
Market
FRESH SEA SCALLOPS
Large, tender Scallops sautéed in Butter & Garlic, tossed with Spinach Fettuccine and a Fresh Pesto & Cream Sauce
Market
SPINACH FETTUCCINI ALFREDO
with JUMBO LUMP BACKFIN BLUE CRABMEAT
Our Spinach Fettuccini mixed with our delicious homemade Alfredo Sauce, topped with Jumbo Lump Blue Crab sautéed in Butter
Market
NEW ZEALAND MUSSELS with SPAGHETTINI
Imported Green-Lipped Mussels in a Garlicky Marinara Sauce, Basil, Red Pepper Flakes, topped with Shaved Parmesan Cheese
$23.95
or - with Garlicky White Wine Sauce
$26.95
RIGATONI with JUMBO SHRIMP
Sautéed in EVOO with Prosciutto, Garlic, Black Olives, Shallots, Fresh Tomatoes and Red Pepper Flakes. Topped with a garnish of Arugula, followed with a dusting of Romano Cheese
$25.95
HOUSE SPECIALTIES
We use naturally-fed, non-hormone Chicken.
FETUCCINE e SAUTÉED CHICKEN
with EVOO & Garlic $20.95
Marinari $21.95
Alfredo Sauce $23.95
RAVIOLI al FORMGGIO
Your choice of Sauce
$22.95
POLLO or MAHI PICCATTA
White Wine, Capers, Butter, Lemon Juice, Garlic, Shallots & Parsley with a side of Fresh Fusilli Pasta, topped with Creamy Alfredo Sauce.
$24.95
Mahi $25.95
POLLO al QUATRO FORMAGGIO
Thin Spaghetti, Diced Chicken Breast in a Rich Cream Sauce, with Parmesan, Romano, Fontanella and Gorgonzola Cheeses and topped with Walnuts
$24.95
POLLO con FUNGHI e PISELLI
Diced Chicken Breast & Fresh Mushrooms sautéed in EVOO with Garlic, Shallots, Green Peas and served over Thin Spaghetti with a Marinara Sauce
$23.95
POLLO PARMESANO
We dust our tender Chicken with Gluten-Free Flour and Pan-Sautée it, cover it with our Marinara Sauce, and top it with Aged Parmesan Cheese. Served with a side of our Fussill Pasta and our Homemade Marinara
$23.95
POLLO MARSALA
Our delicious non-hormone Chicken lightly coated with GLUTEN FREE Rice Flour, sautéed with Butter, Garlic, Shallots, Mushrooms in Marsala Wine Sauce. Served with a side of Fusilli Alfredo
$24.95
ZUCCHINI RIBBONS - ZOODLES
Low carb/gluten-free Zoodles (Zucchini Ribbons) with Mushrooms and sautéed in EVOO, Garlic & Shallots, finished with a sprinkle of Romano Cheese & Lemon Wedge
$17.95
Add Shrimp $7.95
SPAGHETTINI SCHMAPPELLINI
Our homemade Spaghetti tossed with Asparagus, Basil, Garlic and Tomatoes in a savory Vegetable Consommé. Finished with Toasted Pine Nuts & Shaved Parmesan Cheese
$18.95
FUNGHI al POMODORI, SPINACI e CECI
Fresh Mushrooms sautéed in EVOO with Garlic, Shallots, Tomatoes, Garbanzos, Pesto, Oregano & Fresh Spinach. Served over Pappardelle, topped with crumbled Feta Cheese
$19.95
MOSTACIOLLI with BROCCOLI RABE RAPPINI
Wild Broccoli Rabe flash-sautéed in EVOO with Garlic, Red Pepper Flakes, Chopped Tomatoes, and Grilled Sausage with Pinenuts and topped with Shaved Parmesan Cheese
$19.95
SPAGHETTINI alla CARBONARA*
A rich sauce of Parmesan Cheese, flavorful Pancetta, Sautéed Garlic, Black Pepper, Peas and tossed with a Fresh Egg
$21.95
Add Chicken or Shrimp $7.95
Kindly ask for separate checks when ordering.
$20 corkage fee.
18% gratuity may be added to your check at our discretion.
We accept cash, MasterCard, American Express, VISA, and Discover.
* Eating undercooked or raw food can increase your chances for food-borne illnesses.